Jimmy Knox, who was one of Non League football's most successful players and managers, passed away on the afternoon of Christmas Eve 2012 aged 77.
By Keith Coughlan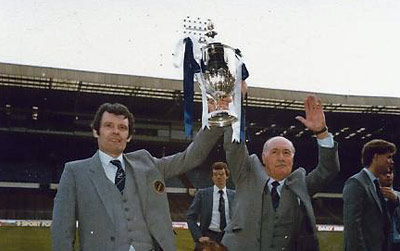 Jimmy Knox spent 11 seasons with Rugby as manager
Jimmy was the club's most successful manager in his 11 years in charge of the club between 1981 and 1992 taking Rugby to Wembley to win the FA Vase, gaining promotion to the Southern League for the first time as well as a number of FA Cup heroics.
There will be a minute's silence before the Daventry home game on New Year's Day. There will also be a minute's applause in the 5th minute - the shirt Jimmy was synonymous with at Rugby Town.
Jimmy died a little over four months after the death of wife Mary on 16th August 2012.
Jimmy suffered a stroke shortly before his wife's death. They leave four children, Caroline, Steve, Kate and Jackie and their families.
One of Jim's greatest achievements was, without doubt, leading VS Rugby out at Wembley Stadium to win the FA Vase on April 30th 1983 with a 1-0 victory over Halesowen Town.
He had done this in only 27 months since taking over the Valley when they were a struggling West Midlands (Regional) League Premier Division side. Added to the FA Vase success was Jim's pride of having his son, Steve playing for the side on that on many other glory day's.
Beginnings
James H Knox who was born in Brechin, Angus in Scotland on November 26th 1935 was picked , at the age of 14, for the North against South in a Scottish trial and later gained a Scottish Under 16 cap whilst with Dundee.
Following Army Service he joined Raith Rovers where he played for five seasons making several appearances for the first team.
During the 1956/57 season Coventry City became interested in Jimmy and finally persuaded him to join the playing staff at Highfield Road, where in the 1957/58 season he made two first team appearances in Division Three South, he also made regular appearances in their Football Combination side as a goalkeeper.
Knox Joins Rugby
At Coventry he met fellow Scot, Ian Jamieson who, in November 1958, was appointed player/manager of the now defunct Rugby Town.
Jamieson's first signing was that of Jimmy Knox on the 25th November 1958, the eve of his 25th birthday. Four days later on the 29th November he made his debut in a 2-0 defeat by Cheltenham Town in the Southern League North Western Division.
During his first two seasons, Jim played as an inside forward but he received a severe knee injury which threatened an early end to his playing career. However, such was his courage that after a month he made a comeback in a more defensive role. In 1960 he was appointed captain.
This spell at Rugby lasted six seasons in which he appeared in two losing Birmingham Senior Cup Finals and the side that won promotion to the Southern League Premier Division at the end of the 1961/62 season.
He was awarded a testimonial match at the end of the 1963/64 season having played a total of 267 games and scoring 58 goals.
Prior to the start of the 1964/65 season Jimmy signed for Lockheed Leamington where he captained them to the Midland League championship and stayed for two seasons before moving to Corby Town. Jimmy played exactly 100 games and scoring a total of 18 goals for Corby Town.
In April 1968 Jimmy rejoined Rugby Town to the end of the season and helped the club to regain the Premier Division status. At the end of the 1967/68 season Jimmy joined Banbury United as a player at the age of 32 playing in two cup games. Season 1968/69 would see Jimmy primarily play in the half back line making 47 appearances in all competitions.
Season 1969/70 season saw Jimmy return to Rugby Town for the third and final time. During the next two seasons the Oakfield based club finished 5th & 6th in the league and lifted the Birmingham Senior Cup for the first time in 1970-71 season with captain Jimmy playing an important part in these triumph's.
A Start in Management
In 1970 Alan Vest resigned as manager of Rugby Town and Jimmy was appointed as Player/Manager of Rugby Town at the start of the 1971/72 season.
The following two seasons saw him put together a team which finished 4th in the league in both seasons and reach the FA Trophy 2nd Round for the first time.
This was achieved despite continuing financial difficulties, which finally led to Rugby Town ceasing to exist at the end of the 1972-73 season.
A Start in Management
Jimmy left Rugby Town in March 1973 to become manager of Lockheed Leamington where he remained until 1980.
At the Windmill he guided the then AP Leamington to much success in the FA Cup, Southern League and into the newly formed Alliance Premier League which became the Conference, now known as the Blue Square Premier League.
In 1973-74 season A.P. Leamington won the Southern League Cup and followed this up by winning the Championship Match against Premier Division winners Dartford. In 1975-76 he took them to the First Division North Runner's-Up position and promotion into the Southern League Premier Division.
All good managers need good backroom staff as well as good players and Jimmy Knox was no exception, having the calming influence of ex Coventry City player Bob Ward as his assistant at all his three clubs.
Knox at Butlin Road
In January 1981, Jim and Bob joined struggling VS Rugby. With Jim living in Rugby it was the obvious move but a big gamble on his part.
Already at the club for the previous 6 years was Barrie Fergusson and he played a vital part in the fitness of the players in his role of Coach/Physio.
With Jimmy Knox in charge for the first time at Bilston on 31st January 1981 the side lost 4-1 and only won once in his first 13 games.
However, the last of those was a 0-0 draw away at Shifnal Town and that was the start of a 9 match run which saw only one defeat and 5 wins. Relegation was avoided in this first season with a 5th from bottom finish and the club went from strength to strength.
Then 1981-82 saw a much improved campaign with an 8th place finish although a first day win was followed by 8 defeats and 1 draw.
Wembley Success & The Southern League
1982-83 saw the amazing run to Wembley and 7th place in the league.
The FA Vase success was followed by admission to the Southern League. In 1983/84, the first in the Southern League, saw a 10th spot in the Midland Division and a Birmingham Senior Cup Semi-Final defeat by Halesowen Town. In 1984 Jimmy Knox was honoured by his adopted town, being awarded the title of 'RUGBEIAN OF THE YEAR'.
Jim's success was continued in 1984/85 with 5th spot in the league and cup runs in the FA Cup and Southern League Cup with a Midland Floodlit Cup Final victory against Conference club Nuneaton Borough, 3-2 over two legs after extra time with victory clinched at Manor Park.
In the FA Cup 1st Round Proper only a last minute Ray Train equaliser prevented VS beating Northampton Town in a 2-2 draw at the County Ground.
The replay saw a massive Butlin Road attendance of 3,961 who witnessed a 1-0 defeat and Cheltenham Town knocked the side of the League Cup Semi-Final, 3-2 over two legs.
In 1985-86 another league club was taken to a replay in the FA Cup 1st Round Proper when Orient were held to a 2-2 draw at Butlin Road before a losing a snow affected replay by 4-1. 1986-87 saw VS enjoy more FA Cup success under the Knox/Ward management.
Exempt until the 4th Qualifying Round, VS visited Wycombe Wanderers and recorded an resounding 5-1 victory with Dave Draper scoring a hat-trick to set up a 1st Round Proper tie, this time at Bristol City who were glad to see the back of VS with late goals in a 3-1 home win.
VS Rugby went on to win the Southern League Midland Division title with a final game of the season 3-0 victory at Merthyr Tydfil who could also have won the league as could Leicester United.
Southern League Premier Division
1987-88 was the first season in the Premier Division and this time Jimmy's men knocked out both Nuneaton Borough and Atherstone United for the right to entertain Bristol Rovers in the FA Cup 2nd Round Proper, drawing 1-1 at Butlin Road before losing the delayed replay at Twerton Park by 4-0.
1988-89 saw the next part of the Knox success story continue with a 3rd place in the Southern League Premier Division and a Birmingham Senior Cup victory 1-0 over Bromsgrove Rovers at The Hawthorns after knocking out Aston Villa in the 1/4 Final and Wolverhampton Wanderers in the Semi-Final both following replays.
The following season 1989-90 Valley were again prominent in the league and at the end of the season there was more silverware at Butlin Road when firstly the League Cup was won in a two legged final against Peter Taylor's Dartford, then for the 2nd time the Midland Floodlit Cup, beating Redditch United 3-2 on penalties following a 1-1 draw at The Hawthorns and finally the Leamington Charity Cup.
In addition in the Birmingham Senior Cup Semi-Final a narrow 2-1 defeat by WBA at The Hawthorns following a 0-0 draw at Butlin Road.
1990-91 was something of an anti-climax but a tremendous FA Trophy run through to the 2nd Round Proper saw a crowd of 1,835 witness a very close encounter with Martin O'Neill's Wycombe Wanderers side with Mr O'Neill admitting that a 1-0 victory flattered his side who were the eventually winner's of the Trophy.
Manchester United Testimonial
On Wednesday 14th August 1991 VS Rugby played and beat a strong Manchester United side 1-0 in a Testimonial Match as recognition of Jimmy's 10 years in charge at Butlin Road. United manager Alex Ferguson honoured a long standing verbal agreement made through a younger brother of Jimmy, Archie, who was United's Assistant Manager before his move to Glasgow Rangers.
The 1991-92 season saw Jimmy restore the glory days with another chance of promotion to the Conference on the cards when, for the second time in four seasons, VS Rugby again finished third in the Southern League Premier Division and the Birmingham Senior Cup was won again with a Birmingham City side being well beaten 3-0 at The Hawthorns.
Resignation
The close season that followed saw Jimmy Knox resign as manager of VS Rugby in a fall out with chairman Roy Gallimore over pay.
He felt he could not agree to changes that would have drastically cut his pay during the close season. With Jimmy Knox gone, after 11 years in charge, VS Rugby were relegated at the end of the next season, 1992-93, for the first time in the 37th season since formation.
In the Summer of 1993 Chairman Roy Gallimore put the club into liquidation. Jimmy Knox remained in football in a Scouting capacity for Glasgow Rangers.