Rugby Town have been awarded a 1-0 win and three points for the abandoned game at Royston Town last month.
By RUGBYTOWNFC.COM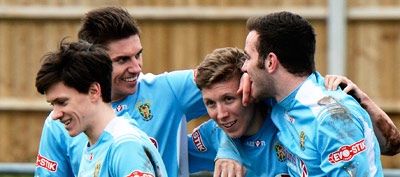 The Southern League Board of Directors held a meeting last night to decide the outcome of the match and decided to make the result stand at 1-0.
This result now puts Rugby joint top of the table with Burnham.
With Rugby leading 1-0 through David Kolodynski's 55th minute overhead kick and Royston already reduced to ten men, Royston refused to continue playing with 24 minutes remaining after a serious injury had occured to Rugby captain Robbie Banks.
Banks suffered a double fracture to his tibia and fibula midway through the second half as he challenged for a loose ball and play was immediately stopped.
Initially there was a 30-minute delay as Robbie was not moved from the pitch awaiting an ambulance but eventually Robbie was stretchered off to warm applause from all fans as the ambulance was delayed.
Further delays ensued as it became unclear whether the game would continue with the Rugby players out on the pitch and ready to play and the Royston players back in the dressing room.
After extensive discussions between managers, players, match officials & the referee's assessor, it was decided that the game was to continue (now about 40 minutes after Banks' injury) but the Royston players refused to re-enter the field to finish the game and the game was abandoned by the match referee.