Mason & Kyle Rowley along with Trey Brathwaite have committed to Rugby for the new season, all signing one-year deals.
All three players, who featured for Rugby last season in the Northern Premier League, have signed contracts to keep them at Butlin Road until May 2018.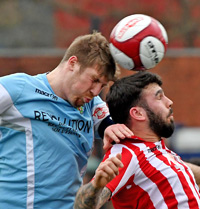 Mason Rowley has featured in over 180 games for Rugby since first joining in 2012
Valley director Neil Melvin welcomed the signings:
"Dave [Stringer] is looking to build a settled squad of proven players for the season and we believe Mason, Kyle and Trey will very much add to that.
"We know the strengths Mason brings to the table while Trey and Kyle are both young, talented lads."
24-year-old centre back Mason Rowley re-joined the club for his third spell in November 2016 having originally signed under Dave Stringer at Valley back in September 2012.
The former Barwell, Basford and Stratford defender has amassed over 180 appearances for Valley scoring nine goals.
Mason's brother Kyle Rowley joined Rugby last season from Hednesford Town having been released from Walsall.
The 20-year-old defender made 24 appearances for Rugby after arriving in October 2016.
22-year-old Trey Brathwaite made 17 appearances last season for Valley after joining in December 2016 from Stratford Town.
Trey joined as a midfielder but played mainly at left back at Butlin Road last season.
The three new deals takes the number of contracted players to eight after midfielders James Dance and Josh Ruff added to the list last week.
Niall Cooper, David Kolodynski and Ruben Wiggins-Thomas all signed contracts earlier in the month as Dave Stringer shapes his squad for the new season.