Rugby Town have been moved laterally into United Counties League once more after the FA provisionally announced their league allocations.
The listings are still subject to ratification at the annual general meetings of the various competitions.
The geographical change will mean yet another divisional change to add to the sideways switches dealt to Valley in 1999, 2000, 2001, 2002 and 2015.
There will be a majority of new grounds for Rugby fans to visit in the UCL with only Daventry Town a known foe from recent years.
Valley did face Deeping Rangers in the FA Cup back in 2006 but otherwise Rugby have faced no-one else in the league in competition in recent years.
The first league fixture is likely to be on Saturday 11th August, a week after the first game of the season in the FA Cup.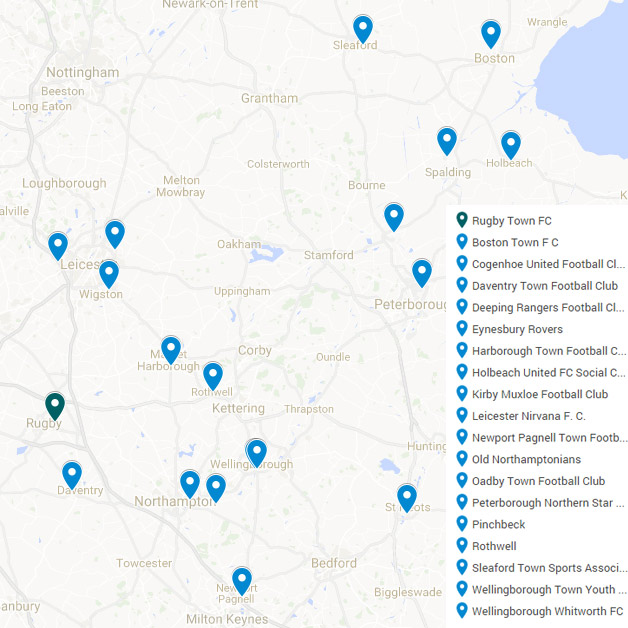 The full line-up is provisionally as follows:
| | | |
| --- | --- | --- |
| | United Counties League Premier Division 18/19 | 17/18 |
| | Boston Town | UCL Premier Division (13th) |
| | Cogenhoe United | UCL Premier Division (8th) |
| | Daventry Town | UCL Premier Division (10th) |
| | Deeping Rangers | UCL Premier Division (5th) |
| | Desborough Town | UCL Premier Division (9th) |
| | Eynesbury Rovers | UCL Premier Division (7th) |
| | Harborough Town | UCL Premier Division (11th) |
| | Holbeach United | UCL Premier Division (4th) |
| | Kirby Muxloe | UCL Premier Division (12th) |
| | Leicester Nirvana | UCL Premier Division (6th) |
| | Newport Pagnell Town | UCL Premier Division (3rd) |
| | Northants ON Chenecks | UCL Premier Division (17th) |
| | Oadby Town | UCL Premier Division (19th) |
| | Peterborough Northern Star | UCL Premier Division (16th) |
| | Pinchbeck United | UCL Division One (1st) |
| | Rothwell Corinthians | UCL Premier Division (15th) |
| | Rugby Town | Transferred from Midland Football League Premier Division (6th) |
| | Sleaford Town | UCL Premier Division (18th) |
| | Wellingborough Town | UCL Premier Division (14th) |
| | Wellingborough Whitworth | UCL Premier Division (20th) |