League Line-Up 19/20
Rugby Town will take their place in the United Counties League Premier Division for the 2019/20 season after the FA released their provisional allocations.
It is the first time since the 2016/17 season that Rugby will play in the same division for a second successive season after relegation from the Northern Premier League in 2017 and a lateral movement from the Midland Football League in 2018.
The league line-up welcomes newly-promoted Anstey Nomads and Lutterworth Town from the UCL Division One while familiar faces Loughborough University, Quorn and Shepshed Dynamo have all been moved from the Midland Football League.
Daventry Town have moved up out of the league and Wellingborough Whitworth and Kirby Muxloe were both relegated while Newport Pagnell Town and Eynesbury Rovers have been moved laterally to the South Midlands League.
The listings are still subject to ratification at the annual general meetings of the various competitions.
The first league fixture is likely to be on Saturday 10th August, a week after the first game of the season in the FA Cup.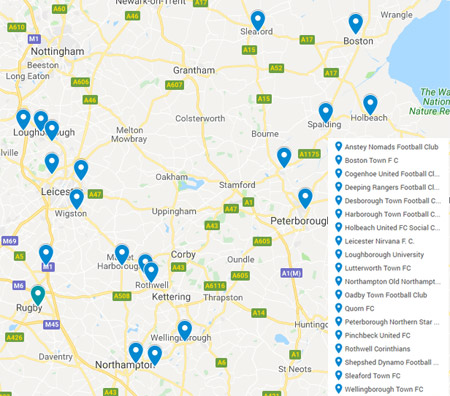 The league line-up is provisionally as follows:
| | | |
| --- | --- | --- |
| | United Counties League Premier Division 19/20 | 18/19 |
| | Anstey Nomads | UCL Division One (2nd) |
| | Boston Town | UCL Premier Division (17th) |
| | Cogenhoe United | UCL Premier Division (7th) |
| | Deeping Rangers | UCL Premier Division (2nd) |
| | Desborough Town | UCL Premier Division (9th) |
| | Harborough Town | UCL Premier Division (11th) |
| | Holbeach United | UCL Premier Division (5th) |
| | Leicester Nirvana | UCL Premier Division (12th) |
| | Loughborough University | Transferred from Midland Football League Premier Division (18th) |
| | Lutterworth Town | UCL Division One (1st) |
| | Northants ON Chenecks | UCL Premier Division (15th) |
| | Oadby Town | UCL Premier Division (10th) |
| | Peterborough Northern Star | UCL Premier Division (16th) |
| | Pinchbeck United | UCL Premier Division (4th) |
| | Quorn | Transferred from Midland Football League Premier Division (6th) |
| | Rothwell Corinthians | UCL Premier Division (18th) |
| | Rugby Town | UCL Premier Division (3rd) |
| | Shepshed Dynamo | Transferred from Midland Football League Premier Division (7th) |
| | Sleaford Town | UCL Premier Division (13th) |
| | Wellingborough Town | UCL Premier Division (14th) |