You can hire out our 3G astroturf pitches at Butlin Road any time of year for team training.
At Butlin Road, we have a full-size, 11-a-side 3G pitch which we book out in thirds plus a 7-a-side mini 3G pitch.
To book email us or call 01788 866944.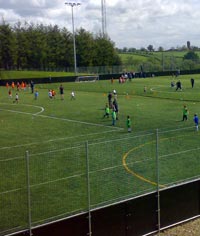 We have fantastic facilities perfect for football clubs/rugby clubs.
Fully floodlit
3G rubber crumb articfical grass surface
Natural roll and bounce
Soft surface meaning reduced abrasions
Ample parking
Fully licensed sports bar