Goal-scoring machine David Kolodynski scored his 200th goal for Rugby Town this week.
In the same week that Wayne Rooney netted his 200th Premier League goal for Everton against Manchester City, Kolodynski's 49th-minute header at Heanor Town marked a double-century of his own in a Valley shirt.
Since his debut in 2006, the 28-year striker has started 292 games for Rugby and featured from the bench a further 73 times in all competitions during three spells at Butlin Road and has now brought up his 200th goal in all competitions for the club.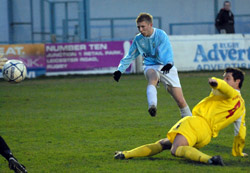 David Kolodynski made in mark for Rugby in 2006 with a memorable goal at home to Tiverton Town in the Southern League Premier Division
David has netted five goals in five games for Rugby so far this season and will be targetting to extend his lead at the top of the club's all-time top scorer charts.
The 2017-18 season has also seen Kolodynski move to the top of the club's all-time list ahead of Hedley Lewis who featured for the club between 1964-1975, scoring 196 in all competitions.
This season could also see David also top the club's all-time appearances chart - he is currently on 368 behind leader Danny Conway who played 390 games for the club between 1983 and 1990.
Scoring on his full debut in a 2-0 win over Wealdstone in November 2006, David staked his claims for a first team place in January 2007 with a run of three goals in three games and ended the 2006/7 with six league goals and David made an impact mainly from the bench again in the 07/08 season.
After a sustained chance in the first team at the start of the 08/09 season, the return of Tony Dobson as manager saw David return to goalscoring form in a good partnership with fellow striker David Stone.
Kolo netted his first hat-trick for the club away to Merthyr Tydfil in November 2008 and then repeated the feat against Clevedon Town in the next game - a landmark achievement.
It was in his second spell when he was most clinical with Valley which saw 94 goals in just over two full seasons from October 2012, David moved to division rivals Kettering in November 2014 where he went on to win the league title.
Kolodynski netted 35 goals in the 2012/3 season on his return and became the club's record Southern League goalscorer in October 2013 before breaking more records in the 2013/4 season tipping over the 100 league goal mark and becoming the club's all-time senior record scorer after with a 39-goal season.
Rugby Town League Career (2006 to 2010, 2012 to 2014, 2015 to 2017)

Season

Apps

Gls

Notes

2005/6

0 (1)

0

Makes debut as substitute.

2006/7

4 (21)

6

Plays part in season but mainly from the bench.

2007/8

6 (24)

3

-

2008/9

36 (5)

26

Top scorer in SL Premier Division. Vice President's Player of the Season. Top scorer.

2009/0

30 (2)

9

Cambridge City signed David at end of the season for an undisclosed fee. Top scorer.

2012/3

38 (0)

34

Rejoins club from Bedworth in October 2012. Top scorer.

2013/4

39 (2)

36

Reaches 100 goal landmark. Becomes club's all time senior top scorer. Win's Rugby's Sportsman of Year. Top Scorer in SL Central Divison.

2014/5

17 (0)

10

Leaves club to join division rivals Kettering Town in November 2014. Top scorer.

2015/6

36 (4)

23

Top scorer.

2016/7

36 (1)

16

Top scorer. Most appearances.

2017/8

3 (0)

2

Scores 200th goal in all competitions for Rugby.

Career

245 (60)

165

-