Rushden & Leek Games Re-Arranged
Saturday 24th September 2016
Rugby will host Rushden on Tuesday 8th November & Leek Town on Tuesday 22nd November at Butlin Road, both games kick-off 7.45pm.

James Jepson Resigns
Sunday 18th September 2016
Rugby Town have today accepted the resignation of manager James Jepson with immediate effect.

Birmingham Senior Cup Draw
Monday 5th September 2016
Rugby will face Tividale at home in the Birmingham Senior Cup 1st Round to be played on Tuesday 25th October 2016.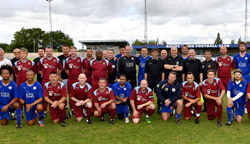 Legends Roll Back The Years
Wednesday 24th August 2016
Valley's diamond jubilee celebrations kicked off at Butlin Road last Sunday, when two teams of footballing legends took part in an entertaining affair.

Integro League Cup Draw
Friday 5th August 2016
Rugby have been drawn against NPL Premier side Ilkeston in the League Cup 1st Round to be played on 15th November 2016.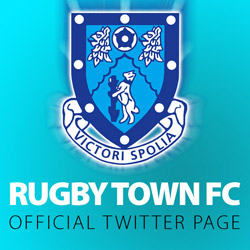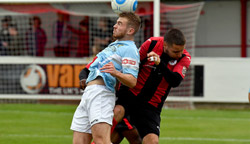 FA CUP SECOND QUALIFYING ROUND
Brackley 6-0 Rugby
Saturday 17th September 2016
Valley's FA Cup exploits for the season came to a comprehensive conclusion at St James' Park against National League North Brackley.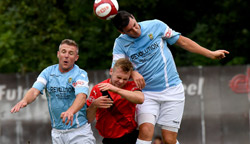 EVO-STIK NPL FIRST DIVISION SOUTH
Sheffield 4-2 Rugby
Saturday 10th September 2016
A poor second half performance saw Valley let a two goal lead slip at the Coach & Horses Stadium.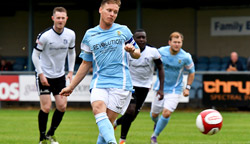 FA CUP FIRST QUALIFYING ROUND
Rugby 1-0 Corby
Saturday 3rd September 2016
Andy Gooding's early penalty and a stoic defensive display against NPL Premier side Corby ensured a place in the next round of the FA Cup for Rugby.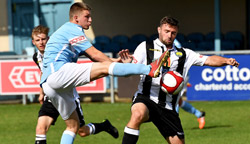 EVO-STIK NPL FIRST DIVISION SOUTH
Rugby 0-1 Carlton
Monday 29th August 2016
Another late sucker-punch goal was Rugby's undoing against a resilient Carlton Town on a warm Bank Holiday Monday at Butlin Road.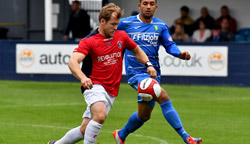 EVO-STIK NPL FIRST DIVISION SOUTH
Kidsgrove 0-1 Rugby
Saturday 27th August 2016
David Kolodynski's second half strike secured 10-man Rugby a first league victory of the new campaign.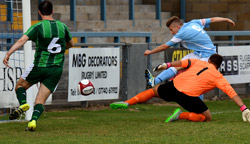 FA CUP PRELIMINARY ROUND
Rugby 1-0 Bromsgrove
Saturday 20th August 2016
David Kolodynski's 82nd minute strike earned Rugby a home tie against Corby Town in the next round of the Emirates FA Cup.